Market targeting means choosing one's target market. In choosing the target market, a firm basically carries out an evaluation of the various segments and selects those segments that are most appropriate to it. Target markets signify only those segments that it wants to adopt as its market.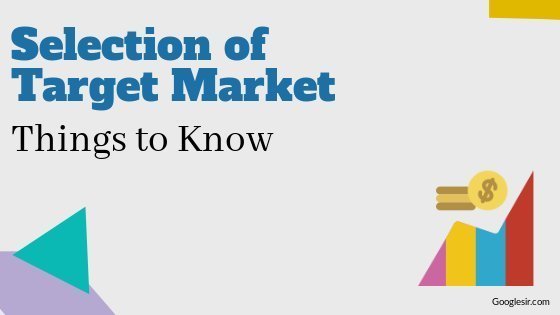 Market targeting is a part of marketing strategy.
As said earlier, that market targeting is a process of evaluating and selecting the target market segments which firm decides to serve.
In evaluating different market segments, the firm must look at two factors: the segment's overall attractiveness, and the company's objectives and resources.
Selection of Target Market
In brief, the following points should be kept in mind while evaluating and selecting a target market segment.
1. Size of the Segment
In the selection of the target market segment, its size must be considered whether it is sizeable or not.
Simply, the biggest market may be more sizeable than the premium segment.
If a firm wants a very large volume, it should think about the popular segment (bigger market) in comparison to the premium segment.
Read More: How to Select a Suitable Marketing Strategy for Market Segmentation.
2. Growth Potential
In the evolution or selection of target market segments, growth rate (present and potential) of that segment should also be considered.
Usually, business firms seek out high growth segments.
If a firm sees a potentially high growth rate in a segment, then it may consider that segment while avoiding the present growth rate.
3. Attractiveness
It is also an important factor of consideration in evaluating the target market segments.
It focuses on whether a potential segment has characteristics that make it generally attractive, such as size, growth of profitability, scale economies and low risk.
If a firm feels attractiveness in a segment (like a low risk, potentially high growth rate) it can select a target market.
Related: Top 12 Benefits of International Expansion of Business.
4. Must be Measurable
The degree to which any information about the target market segment (buyer characteristics) obtainable could be measured determines the market targeting.
Many suggestive characteristics are not easy for measurement.
It is hard to measure the number of customers who are motivated to buy a car with accessories primarily by consideration of the credit facility.
Therefore, measurability should also be considered in evaluating target market segments.
Related: 13 Social and Cultural Values Affect Business Environment.
5. Accessible
The effectiveness of market targeting is conditioned by the effective focus on chosen segments.
Therefore, the firm should consider the market reality in evaluating and selecting target market segments.
The popular segment (bigger market) may be accessible only to firms with a cost advantage since the price is a major determinant in this segment.
Premium target market segment may be accessible only to firms which enjoy a differentiation advantage, and which are also marketing savvy.
6. Conformity with the Company's Goals and Objectives
In evaluating and selecting the target market segments, companies goals and objectives are considered.
In this context feels, that whether investing in the segments make sense given the firm's objectives, competencies, and resources.
He opines that some of the segments may be attractive, but they do not match with the company's long-run objectives.
Therefore, the segment (target market) should be having conformity with company goals and subject objectives. Identification of Business Opportunities: Objectives, Challenges.
7. Resources
In evaluating different target market, the firm should consider its objectives and ship resources. If the resources of the firm are Limited, a popular target market may be a natural choice, and for others, the premium segment.
There are four guidelines about how to determine which target market segment should be the target markets:
The target market should be compatible with the organizations' goals and image.

It should match with the market opportunity represented in the target markets with the company's resources.

An Organisation should seek markets that will generate sufficient sales volume at low enough cost to result in a profit.

A company ordinary should seek a market where there are the least and smallest competitors.
Thus, now you know the Things to Know Before Evaluating or Selection of Target Market.
Read More