The need for continuous adaptation and improvement has become a critical imperative for enterprises of all sizes. The process of reshaping and revitalizing a company to meet changing market demands and emerging technologies is known as business transformation. This strategic undertaking can deliver a multitude of benefits that not only enhance an organization's competitiveness but also secure its future in an ever-changing global economy.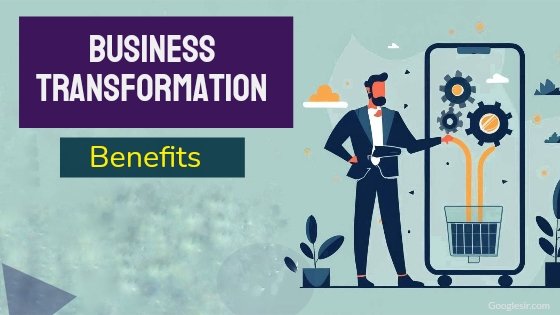 The business world is in a constant state of flux, driven by technological advancements, shifting consumer preferences, and evolving global dynamics. To thrive in such an environment, companies must be agile, innovative, and capable of responding rapidly to change. Business transformation is the catalyst that enables organizations to harness these opportunities and meet the challenges head-on.
Business transformation encompasses a wide range of strategic initiatives and operational changes aimed at improving efficiency, effectiveness, and competitiveness. It is not a one-size-fits-all concept but rather a tailored approach that addresses specific organizational needs.
The scope of business transformation can encompass various aspects, such as technology adoption, process improvement, organizational restructuring, and cultural change. While the path to transformation may be challenging, the rewards are substantial and long-lasting.
What are the Benefits of Business Transformation? Explained
The following are the advantages of business transformation:
1. Organizational Resilience
Business transformation is the bedrock of organizational resilience. In a world fraught with uncertainty, the ability to pivot and adapt quickly to unforeseen challenges is invaluable.
Through the adoption of new technologies, streamlined processes, and a culture of adaptability, organizations become better equipped to weather economic downturns, market shifts, or disruptive events. Resilient organizations not only survive in the face of adversity but thrive by turning obstacles into opportunities.
Business transformation enables organizations to cultivate a dynamic and agile workforce. Employees are not merely expected to adapt to change; they are empowered to initiate and drive change themselves. A culture of adaptability is fostered, where employees feel encouraged to explore new ideas, experiment with innovative solutions, and take calculated risks.
This empowerment enhances employee engagement, as they become active contributors to the transformation journey. Their dedication and creativity, in turn, lead to increased productivity and loyalty.
2. Market Expansion and Diversification
Business transformation provides organizations with the tools to explore new markets and diversify revenue streams.
By gaining a deeper understanding of consumer needs and emerging market trends, companies can identify untapped market opportunities.
Whether through product expansion, geographic diversification, or the introduction of innovative services, organizations can reduce their reliance on a single market or product. Diversification safeguards against market-specific risks and economic fluctuations, ensuring sustained growth.
3. Improved Strategic Alignment
Over time, organizations may drift away from their core mission and values as they adapt to changing circumstances.
Business transformation offers the chance to recalibrate and align the entire organization with its long-term strategic goals. This realignment ensures that every decision, project, and initiative is harmonized with the overarching vision.
The result is a more cohesive and focused organization, where everyone is pulling in the same direction, working together to achieve common objectives.
4. Enhanced Employee Engagement and Productivity
Business transformation is not solely about changing processes; it is also about nurturing a culture of innovation and empowerment.
When employees see their organization actively pursuing positive change, they become more engaged and motivated.
Engaged employees are more likely to commit their talents, time, and energy to the organization, resulting in heightened productivity. The workplace becomes a dynamic, inspiring environment where employees are excited to contribute their best.
5. Globalization Opportunities
The global marketplace presents both opportunities and challenges. Business transformation equips organizations to venture into international markets with confidence.
It fosters the ability to understand international regulations, customs, and cultural nuances, which are vital when navigating foreign territories. With the capability to expand into global markets, organizations can access new customer bases, reduce market-specific risks, and secure a foothold in a more interconnected world.
6. Elevated Customer Loyalty
At the heart of business transformation lies the focus on delivering exceptional customer experiences. By understanding customer needs and preferences more deeply, organizations can tailor their products, services, and interactions to match customer expectations.
This heightened customer-centric approach fosters strong customer loyalty. Loyal customers are not only repeat purchasers but also brand advocates who enthusiastically promote the organization.
They become a powerful force in attracting new customers, driving word-of-mouth referrals, and contributing to long-term success.
7. Enhanced Supply Chain Efficiency
Within the realm of business transformation, optimizing supply chain operations is a pivotal component. This process involves streamlining the flow of goods, information, and finances within the supply chain network.
A well-optimized supply chain results in reduced operational costs, shorter lead times, and, most importantly, ensures the timely delivery of products or services to end customers.
Such efficiency can have a profound impact on an organization's bottom line, making it a fundamental advantage of business transformation.
8. Innovative Product Development
Business transformation fosters a culture of innovation, where organizations commit resources to research and development initiatives.
This commitment to innovation is fundamental to keeping an organization at the forefront of its industry. It facilitates the creation of innovative products and services that have the potential to disrupt markets, open new revenue streams, and maintain a competitive edge.
By embracing change and innovation, organizations can continually reinvent themselves, keeping their offerings relevant and appealing to customers.
9. Brand Reinvention
Undergoing business transformation offers the opportunity for organizations to reinvent their brand. A brand encompasses more than just a logo and a name; it embodies the values, personality, and essence of the organization.
Transformation allows businesses to refresh their visual identity, update their messaging, and renew their commitment to core values.
Reinventing a brand can attract new customers and reignite the interest of existing ones, often positioning the organization as a contemporary and forward-thinking entity in the eyes of the public.
10. Improved Risk Management
As part of a business transformation initiative, organizations often conduct comprehensive risk assessments.
This proactive approach enables them to identify potential vulnerabilities, assess the magnitude of risks, and develop strategies to mitigate them. Effective risk management not only minimizes the potential impact of adverse events but also ensures the organization's continued stability and growth.
11. Stakeholder Satisfaction
Business transformation positively influences various stakeholders, including investors, suppliers, and employees.
A more efficient and profitable organization is inherently more attractive to investors, potentially leading to increased investments and a stronger financial position.
Enhanced business operations and stronger relationships with suppliers can result from the optimization efforts that are often part of the transformation. Furthermore, the assurance of job security and the opportunity for personal growth in an organization committed to transformation contribute to employee satisfaction.
12. Sustainability and Social Responsibility
Modern organizations are increasingly expected to demonstrate their commitment to sustainability and social responsibility.
Business transformation provides an ideal platform for incorporating green initiatives and socially responsible practices. This can include the adoption of environmentally friendly technologies, the reduction of the organization's carbon footprint, and a proactive role in addressing societal issues.
Such efforts not only align with global expectations but can also be a unique selling point for customers, who are increasingly inclined to support organizations with a strong sense of social responsibility.
13. Data-Driven Decision-Making
A core element of business transformation is the integration of data analytics and business intelligence into decision-making processes.
By collecting, analyzing, and leveraging data, organizations gain valuable insights into their operations, customer behavior, and market trends. This data-driven approach equips decision-makers with the information needed to make well-informed, strategic choices.
Consequently, organizations can react promptly to market changes and capitalize on emerging opportunities while mitigating potential risks.
14. Enhanced Operational Control
Business transformation typically involves streamlining and optimizing internal processes. This results in increased operational control and a reduction in operational risks.
By gaining better control over various aspects of the business, organizations can anticipate bottlenecks, allocate resources more efficiently, and maintain consistent high-quality standards throughout their operations.
This level of control facilitates better responsiveness to customer demands, improved resource management, and an overall elevation of operational efficiency.
15. Long-Term Sustainability
One of the most significant advantages of business transformation is its contribution to long-term sustainability. Transformation initiatives are geared toward positioning organizations for continued growth, adaptability, and prosperity well into the future.
Rather than focusing on short-term gains, business transformation acts as a strategic investment in the organization's long-term health and success. This ensures that the company remains relevant, competitive, and profitable for years to come, regardless of the challenges and opportunities that arise.
16. Crisis Preparedness
The ability to navigate and overcome crises is a critical aspect of business transformation. By fostering adaptability, innovative thinking, and a culture of continuous improvement, organizations that have undergone transformation are better prepared for unforeseen challenges.
Whether facing financial crises, public relations disasters, or global pandemics, the resilience developed during transformation ensures that organizations can navigate these challenges effectively.
This level of preparedness can be the difference between an organization's survival and its ability to emerge stronger from adversity.
Conclusion:
Business transformation is a multifaceted process that yields numerous benefits, far beyond the immediate improvements in efficiency and customer experiences. It's a strategic approach that fosters resilience, drives growth, and positions organizations to thrive in an ever-evolving business landscape.
As the global marketplace continues to evolve and new challenges emerge, business transformation remains a cornerstone of success, ensuring that organizations not only survive but thrive, ready to face whatever the future holds.