In the sectional balancing system, only a section of the group of ledgers is self-balanced. Under the system, the only general ledger is made to balance. (Sectional balancing system Practical Examples)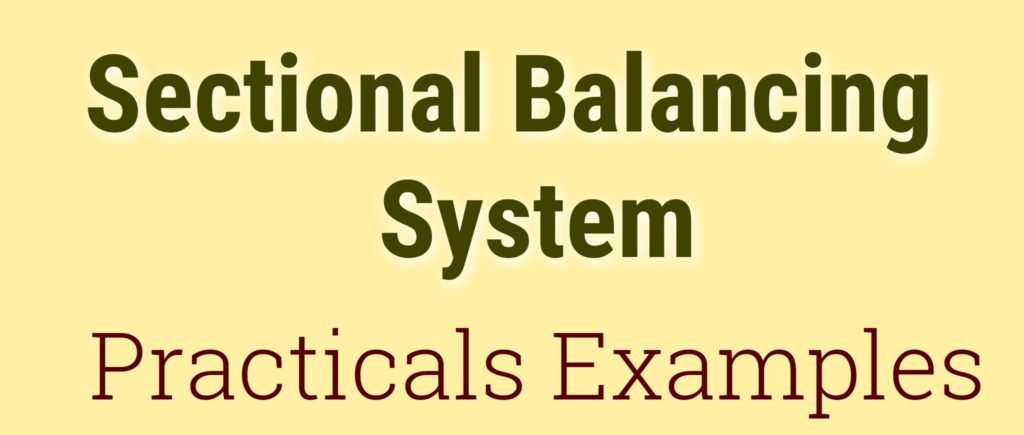 Sectional Balancing System
This is done by inserting two additional accounts in the general ledger.
Total Debtors account / Debtors control account or Sales Ledger Adjustment Account.

Total Creditors account or Creditors control account or Purchase Ledger Adjustment Account.
Read Also:
Example: 1
From the following particulars prepare a total debtors account and appearing in the general ledger in the books of Mr. Jonshan brothers.
Debit balance of debtors Accounts as on 1 January 2010 87,200. and credit balance 600 transactions for 6 months and had 30 June 2010.
Total sales – 94000

Cash sales  – 4000

Bill received – 26000

Noting charges paid – 60

Cheques received from debtors – 60000

Cash received from debtors – 48000

Bill receivable dishonored – 6000

Cheque dishonored – 800
Out of Bill receivable received and included in 26,000 above, bills of 5,000 endorsed to suppliers. bad debts written off during the period were 1,000. The discount allowed for prompt payment was 700. bad debts are written off in 2008 and now recovered from debtors amount of 9,00.
The interest debited for the delay in payment was 1,250. on 30 June 2010 provisions for doubtful debts were created for 2,100.
Therefore, David Agencies account Appeared in debtors ledger and also in Creditors ledger. the balance in Creditors ledger was 900 and the same was transferred to debtors ledger. goods of 2,760 were rejected by the customers and cash refund 600.
Total Debtors Account
Example: 2
The following information is received from the books of a Trader from 1st January 2010 to 31st March 2010.
Total shares amount to 16,000 including the sales of old furniture for 1,200 (Book value 3,500) the total cash sales were 80% less than the total credit sales.
cash collection debtors amounted to 60% of the aggregate of the opening debtors and the credit sale for the period debtors were allowed cash discount for 2,600.
bill receivable Drawn during the three months totaled to 6,000 of which bills amounting to 3,000 were endorsed in favor of Creditors. but out of these endorsed bill receivables, bills receivables of 600 was Dishonoured for non-payment, as the party becomes insolvent, His state realizing nothing.

Purchases totaled to 16,000 of which 10% was for cash.

Cheques received from debtors for 6,000 Dishonoured. a sum of 500 is irrecoverable, bad debts are written off in the earlier I Realised 2,500

Debtors as on 1st January 2010 stood at 40,000.
Thus, Prepare the total debtors account.
Total Debtors Account
Related: Transfer from One Ledger to Another Ledger in accounting
You are Here Sectional balancing system Practical Examples.
Read More