Sales promotion comprises that range of techniques used to attain sales/marketing objectives in a cost-effective manner bu adding value to a product or services either to intermediaries or end-users, normally but not exclusively within a defined time period.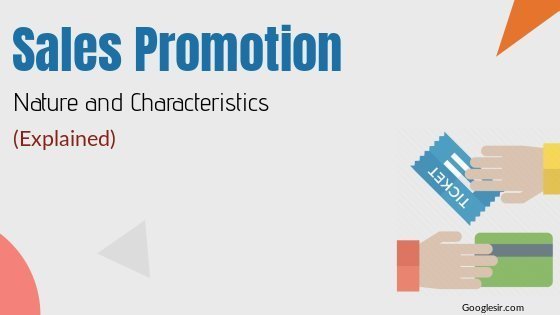 Sales promotion gives new energy to selling efforts.
It is also emerging as a global force.
Role and Nature of Sales Promotion
Following are the role and nature of sales promotion:
1. Target
Sales promotions are conducted by producers and middlemen.
The target of producers' sales promotions may be middlemen, end-users – households or business users or the producers' own sales force.
Middlemen direct sales promotion at their salespeople or prospects further down the channel of distribution.
Related: How to Become a Successful Salesman? 33 Qualities (Complete List).
2. Categories
There are three categories of sales promotions: trade promotions, directed to the members of the distribution channel; consumer promotions, aimed at consumers, and salesforce promotions directed at salespeople to motivate them to increase their selling efforts.
3. Extra Incentive
Sales promotion involves some type of inducement that provides an extra incentive to buy.
This incentive is usually the key element in a promotional program, it may be a coupon or price reduction, the opportunity to enter a contest, a money-back refund or rebate, or an extra amount of a product. Find out: 28 Important Functions of Sales Promotion (With Examples).
The incentive may also be a free sample of the product, given in hopes of generating a future purchase, or a premium that seres as a reminder of the brand and reinforces its image.
4. Acceleration Tool
Sales promotion is designed to speed up the selling process and maximize sales volume.
By providing an extra incentive, sales promotion techniques can motivate consumers to purchase a large quantity of a brand of shortening the purchase cycle of the trade or consumers by encouraging them to take more immediate action.
Related: 15 Main Advantages and Disadvantages of Sales Promotion.
5. Immediate Impact
Sales promotion can often be implemented quickly and gets sales results sooner than advertising.
Sales promotion offers reasons to buy now.
While advertising campaigns and salesforce strategy decisions tend to have long term effects, a particular sales promotion activity usually lasts for only a limited time period.
6. Focus on Short Term Action
Sales promotion objectives usually focus on promoting some short term action.
For an intermediary, such an action might be a decision to stock a product, provide special display space, to pay an invoice early, or give the product special emphasis in selling efforts to final customers.
For a consumer, the desired action might be to try a new product, switch from another brand, buy more of a product, or perhaps buy earlier than would otherwise be the case.
The desired action by an employee might be a special effort to satisfy customers or more emphasis on selling a certain product.
7. Nono Medial Activity
Sales promotions are sometimes referred to as non-media activity or as below the line activity.
This differentiates sales promotions from advertising and publicity and also includes them as part of the overall promotion mix.
Related: 23 Key Benefits and Importance of Establishing Sales Territory (With Examples).
8. Strategic Role
Because of the immediate nature of the impact, sales promotions have, in the past, been thought of as merely tactical.
This view is changing and the strategic role of sales promotions and they're integral ole in the promotional mix is being recognized.
One only has to consider how sales promotions can be used effectively throughout the product life cycle to appreciate the strategic role of sales promotion.
9. Supporting Activity
Sales promotions are generally used to complement other promotion methods.
Related: How to Choose Right Sales Promotion Programs.
10. Planned Activity
The fact that sales promotions can be effective throughout the life of a brand shows its strategic role.
Clearly, sales promotions activities should, therefore, be planned and not just used un an ad hoc manner.
11. Versatile
Sales promotions are extremely versatile.
The different forms of sales promotions are capable of being used with various groups and designed o achieve different effects.
Given this versatility, sales promotions can be useful throughout the product life cycle.
12. Growing Field
The total spending on sales promotion now exceeds spending on advertising.
The promotional budget is increasing than allocated to advertising.
The field of sales promotion has grown rapidly over the last fifteen years.
Bonus: 6 Powerful Methods of Setting Sales Quota (Step by Step).
13. Marketing Commuication
Similar to advertising, sales promotions are one type of marketing communication.
It is also focused on creating action.
14. Action-The Ultimate Goal
Although an action response is the goal of the most sales promotions, it is also designed to build awareness.
But it always focuses on the action as the ultimate goal.
15. Effective Marketing Activity
Ultimately, the basic reason for the growth of spending on sales promotion is that it is now recognized as a very effective marketing strategy.
Thus, now you know the role and nature of sales promotion.
Related: