Sales promotion is the direct inducement or incentive to the salesforce, the distributor, or the consumer, with the primary functions of creating an immediate sale.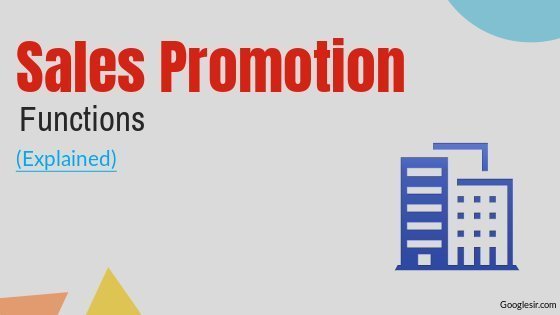 Functions of Sales promotion vary widely. To help ensure the proper application of sales promotion, Specific functions must be set.
Functions of Sales Promotion
These functions and objectives of sales promotion may be as follows:
1. Stimulate Trial Purchase
When a firm wants to attract new users, sales promotion tools can reduce the consumers' risk of trying something new.
A reduced price or offer of a rebate may stimulate trial purchase.
2. Stimulate Repeat Purchases
In package coupons goods for the next purchase or the accumulation of points with repeated purchases, can keep consumers loyal to a particular brand.
Related: 15 Role and Nature of Sales Promotion.
3. Stimulate Larger Purchases
Price reductions or two for one sale can motivate consumers to stock up on a brand, thus allowing firms to reduce inventory or increase cash flow.
4. Introduce a New Brand
Because sales promotion can attract attention and motivate trial purchase, it is commonly used for a new brand introduction.
5. Combat or Disrupt Competitors Strategies
Because sales promotions often motivate consumers to buy in larger quantities or try a new brand, they can be used to disrupt competitors marketing strategies.
If a firm knows that one of its competitors is launching a new brand o initiating a new advertising campaign, a well-timed sales promotion offering deep discounts or extra quantity can disrupt the competitors' strategy.
Related: How to Choose Right Sales Promotion Programs.
6. Contribute to Integrated Marketing Communications
In conjunction with advertising, direct marketing, public relations, and other programs being carried out by a firm, sales promotion can add yet another type of communication to the mix.
Sales promotions suggest an additional value, with price reductions, premiums, or the chance to win a prize.
This is an additional and different message within the overall communications efforts.
7. Increasing Consumption of an Established Brand
Sales promotions can generate some new interest in an established brand to help increase sales o defend market share against competitors.
8. Defending Current Customers
With more new brands entering the tee market every day and competitors attempting to take away their customers, many companies are turning to sales promotion plans to hold present customers and defend their market share.
Related: 15 Main Advantages and Disadvantages of Sales Promotion.
9. Targeting a Specific Market Segment
Most companies focus their marketing efforts on specific market segments and are always looking for ways to reach their target audiences.
Many marketers are finding that sales promotion tools such as contests, coupons, and samplings are very effective ways to reach specific geographic and demographic markets.
Bonus: 16 Factors Responsible for Rapid Growth of Sales Promotion.
10. To Disrupt Existing Buying Habits
A coupon offering a discount might cause brand switching for a product such as orange juice or moto oil, for which many consumers do not have strong preferences.
11. To Attract New Customers
Demonstrations of products such as vacuum cleaners or food processors can show people how easy they are to use and how well they perform.
12. Increase Impulse Buying
End of aisle and island displays in supermarkets can increases sales of a product by as much as 60%.
Bonus: 21 Benefits and Limitations of E-Commerce Business.
13. To Get Greater Retailer Cooperation
A sporting goods manufacturer gets additional shelf space by setting up a point of purchase displays, training retailers' salespeople, and providing tote bags to be given away with purchases.
14. Other Function
Speed up the sales of slow-moving products.
Check the fluctuations in Sales.
Clear the excessive inventories.
Motivate dealers to stock and sell more.
Encourage dealers to participate in display and sales contests.
Gain Advantages of shelf space.
To increase store traffic.
Improve relationships with dealers.
Motivate sales force.
Supplement advertising and personal selling efforts.
Deflect customer's attention from price.
Educate customers and dealers.
Develop patronage habits among the customers.
Facilitate market research study on consumer motivates and behavior.
Increase the goodwill of the firm.
Thus, now you know the major functions of sales promotion in marketing.
Related: