Personal selling consists of individual personal communication in contract to mass, relatively impersonal communication of advertising, sales promotion and the other promotional tools.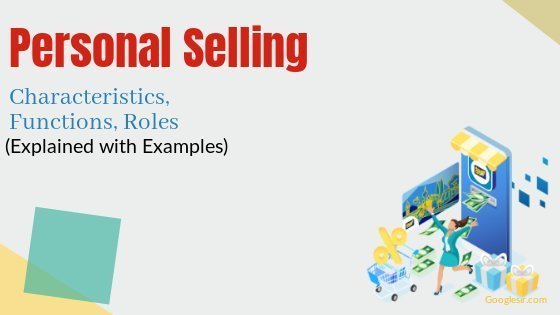 Personal selling is contracting prospective buyers personally to sell a product or service.
Characteristics of Personal Selling
The important characteristics of personal selling may be described as under:
Personal selling is an important element of the marketing mix.

Personal selling is also a form of business communication.

Personal selling is goal-directed activity. After the identification of the prospective buyer, the salesman tries his best to sell his company's product or service.

In personal selling, an oral presentation is made to the prospective buyer.

Personal selling is a paid form of communication. Salespeople engaged in personal selling get either salary or Commission or salary plus commission on the sales of products to prospective buyers.

The main task involved in personal selling is to match specific products with specific consumers so as to secure definite sales.

The role of salesmanship is crucial in personal selling.

Personal selling is basically an art, having a little proportion of science.

Persons engaged in the task of personal selling are called by various names such as salesmen, sales representatives, missionary salesmen, etc. How to Become a Successful Salesman? 33 Qualities (Complete List).

Personal selling is a goal-directed activity, therefore, the chances of wastage of efforts are minimum in personal selling in comparison to advertising.

Personal selling is a process. It comprises – prospecting, pre approach, presentation, handling of the objection, closing and follow up.
Personal selling is a mode of direct selling.

Some non-selling tasks may also be performed by the salesman, along with their main selling task. These non-selling tasks involve the recovery of debts from the middleman and collection of market information etc.
Functions of Personal Selling
Personal selling is an oral presentation in face to face conversations with one or more prospective customers for the purpose of marketing sales.
The main functions of personal selling are as follows:
1. To Make Sales
The first and foremost function of personal selling is to make sales both to old and new customers.
Related: 12 Essential Tools of Public Relations (Explained with Example).
2. Service Customers
The function of personal selling is to render services to customers, such as to introduce the product or products, explain the right use of the product by means of demonstrations, convince the customers about the quality of the product, remove doubts of the customers, etc.
3. Keep Sales Records
Another function of personal selling is to prepare and keep sales records.
4. Executive Functions
Personal selling also performs a number of Executive functions, such as to provide training to the salesman, to prepare short term and long term marketing programs, to provide the information to the sales manager about market Trends, etc.
Related: 37 Essential Qualities of a Successful Entrepreneur (Must Know).
5. To Develop Goodwill of the Company
Another function of personal selling is to develop the Goodwill of the company in the market, Such as providing satisfaction and after-sale services to customers, etc.
6. To Achieve Sales Targets
Another function of personal selling is to achieve sales targets by increasing the volume of sales.
Related: 17 Importance and Role of Small-Scale Industries (Economy).
Role of Personal Selling
Marketing promotion mix comprises advertising, personal selling, and sales promotion.
In the following circumstances, the role of personal selling will be greater in comparison to advertising and sales promotion for getting success in marketing.
Marketing companies may give more weight to personal selling in less developed countries. The low wages in these countries allow to company to hire a much larger Salesforce in comparison to developed countries.

It is conducive when the product has a high unit price. 19 Factors Influencing Entrepreneurship Development.
When the product is in the introductory stage of "product life cycle", and requires a push for the generation of effective demand.

When the product is complicated and Technical, which requires the demonstrations.

When personal attension is required to meet specific consumer requirements, such as, insurance policies, investment plans and property sales, etc.

When the number of customers of the company's product is limited.

When the element of after-sale services is more important for marketing success.

When the personality of a salesman is bedded to establish rapport or to create confidence in the prospect.

When the marketing company cannot spare huge funds for aggressive and large scale advertising campaign, due to limited availability of financial resources.

When the firm sells in a small local market to only institutional buyers.
Thus, now you know the Personal Selling: Characteristics Functions Roles.