The objectives of sales management are decided in light of Corporate objectives. The sales management formulates the objectives for the sales department, which is subordinate to the top management. It is indirectly responsible for the fulfillment of the objectives of top management.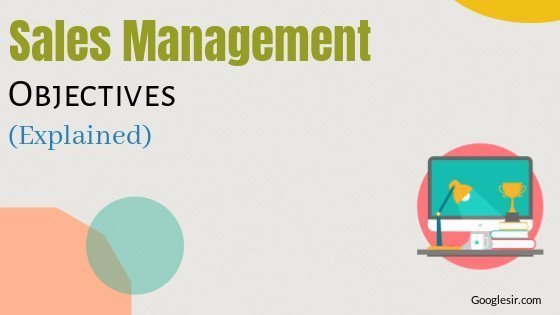 The sales objectives are formulated on the basis of the information and data collected by the Salesforce and market researchers.
Top management delicates to marketing management which then delegates to sales management, sufficient authority to achieve the general objectives.
In the process, objectives are translated into more specific goals.
Objectives of Sales Management
The objectives of sales management are summarised below.
1. Sales Volume
Sales management tries to increase sales volume through the supply of ever-increasing volume of "socially responsible" products that final buyers want at satisfactory prices.
Related: 13 Nature and Characteristics of Sales Management (Explained).
2. Contribution to Profits
Reduction in cost or expense and increase in sales or gross margin, both contribute to profits.
Sales management ensures the success of this formula.
This objective depends on how efficient the sales department is.
3. Continuing Growth
The sales department remains directly connected with consumers and Markets.
It formulates plans and strategies to experience the continued pace of growth.

It keeps a hand on the market pulse.

It explores new markets and customer potentials.

It increases the capabilities of the salesforce middleman. and the like to achieve growth.
Related: 25 Advantages and Disadvantages of Employee Training (Explained).
4. Leading Sales Personnel
Sales management guides and leads the salesperson and middleman so as to implement the sales plans effectively.
5. Appraisal of Market Opportunities
Sales management appraises market opportunities by setting up targets of sales volume, gross margin, and net profits in units of product and in value.
It also projects growth for sales and profits at specific future dates.
6. Charting the Future Operations
Sales management makes forecasts and charts the course of future operations.
This helps in implementing the set plans.
Related: 21 Benefits and Limitations of E-Commerce Business.
7. Supply of Information
Sales management provides higher management with informed estimates and facts for making marketing decisions and for setting sales and profit goals.
8. Other Objectives
To retain and capture market share.

To obtain new accounts (customers) of the given types.

To secure the targeted percentage of certain accounts of the business.

To do the entire selling job.

To assists dealers in selling the product line.

To provide technical advice wherever necessary.

To assist in the training of middlemen's sales personnel.
Sales manager delegates sufficient authority at lower levels to achieve objectives.
Once these goals are finalized. It is up to sales managers to guide and lead the sales personnel and middleman who play critical roles in implementing the selling plans. Top 10 sales force automation software.
Whether or not these goals are reached depends upon the performance of sales and other marketing personal.
Thus, now you know the objectives of sales management.