Employee training is a district of management development or executive development. While the former refers to the training given to employees in the areas of operations, technical, and allied areas the later refers to developing an employee in the areas of principles and techniques of management, administration, organization, and allied areas.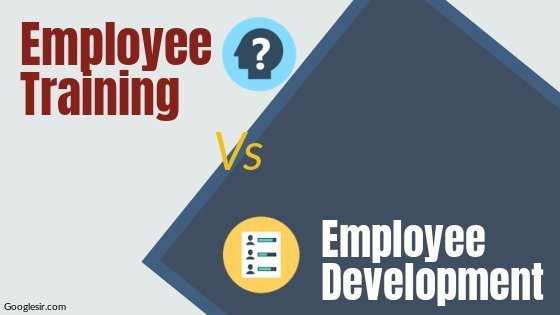 Thus, we may say that training is imparted to objectives, whereas development is the process of grooming mainly used for executives or managers.
The impact of a training programmer ends with learning skills, while that of a developmental program is a continuous and ongoing process.
Difference between Employee Development and Training
The following are the difference between the training and development of employees:
1. Nature
Training focuses on technical, mechanical oriented operations.
Development focuses on theoretical skills and conceptual ideas.
Related: Key Benefits of Sales Training or Coaching.
2. Emphasis
Training is concerned with specific job skills and behavior.
Development is concerned with the related enhancement of general knowledge and understanding of non-technical organization function.
3. Relevance
Training is mostly for non-managers.
The development of managers and executives.
4. Focus
Training focuses on current jobs.
Development prepares for future jobs.
5. Goals
Training focuses on short term goals.
Development focuses on long term accruals.
6. Orientation
The training is a job-oriented process and is vocational in nature.
The development is general in nature and strives to include initiative, enterprises, creativity, dedication, and loyalty amongst executives.
7. Process
Training is a one-shot deal.
Development is a continuous ongoing process.
Related: Top 10 Things to Consider When Selecting Employee.
8. Growth Opportunity
Training may result in the enhancement of particular job skills.
Development may result in personal growth and development of overall personality.
9. Motivation
Training is the result of organizational initiative and hence motivation is extrinsic.
In development the motivation is intrinsic.
10. Classification
Training can be classified into two major types:
No such classification is possible in the development of the employee.
Related: 25 Advantages and Disadvantages of Employee Training.
11. Voluntary Imposed
Training is usually imposed.
Development activities, such as those supplied by management development programs are generally voluntary.
12. Relationship with Career Development
The staff members may have no clear perception of the relationship between learning and career development.
Here, the staff members have experience and knowledge clear direct relationship between self-development and career success.
13. Evaluation
Evaluation for training is considered to be essential.
No evaluation of development is possible.
Conclusion
The need for training the employees stems mostly from organizational requirements whereas the need to undergo the developmental program is internal like promoted by employees themselves nevertheless, in both instances, organizations gain in terms of increased for effective performance.
Yet, another distinction that may be brought about is that training serves immediate organization; requirements while development is futuristic and aims at the growth of both individuals and organizations.
Recommended for You: