Every entrepreneur works hard to make your startup a success. And goes on the path of success, though on this path everyone has time in front of him when he can not do all his work alone. At this point they need employees.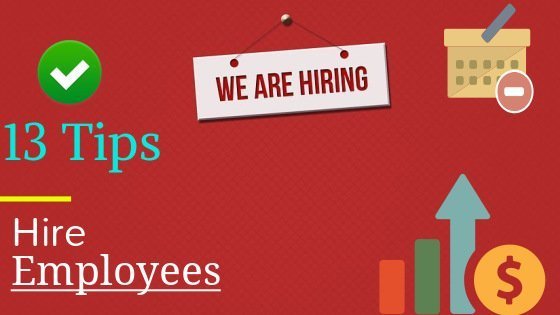 If you are also at such a juncture and you are unable to manage everything alone, then you should hire the first set of employees for your company.
While hiring employees, you should take special care of certain things, otherwise, you may find it difficult.
Do you know what things should be taken at the time of hiring?
A successful entrepreneur is that, who carefully researches and investigates his first employees. He hires Employees according to the right time and need, and increases success.
Factors to Consider When Hiring Employees
Following are the factors to consider when hiring employees:
1. Personal Assessment
Before hiring an employee, you should assess whether this is the right time for hiring for your startup? You should always remember that by doing very quick hiring, your expenses increase.
Similarly, if you are late by hiring, it will affect your startup growth, and you tend to fall behind in the market.
Therefore, it is important that you do the right thing at the right time when you feel that you have at least 3-6 months' work to give to a person.
Then by doing the hiring, you will surely get success. And your startup growth will also increase.
Related: 9 Ways to Increase Valuation of Your Startup Company.
2. Understand Legal Needs
You need to understand your legal obligation as an employee while hiring.
Some things you need to think about include employment, employment contract, tax, minimum hours, salary, overtime, etc.
You should spend some time researching Employee policies.
And understand that you are really ready to take up all these responsibilities at the current stage of business. After this, you decide on Employee Hiring.
3. Hire Innovative Employee
When you are hiring Employee for your startup, you should first know some work clearly. After this, you should hire people in your company who are different from you.
They have different skills. If you hire people like you, the company will not be diversified. And all the work will not be done properly. With this, you can get away from success.
So you should do the employee, then you should do an employee that is capable of doing it.
And they want to do something new then only a new thing will come in your work and your startup. Take care of this thing when you hire your Employee.
Related: 10 Difference and Similarity between Innovation and Creativity.
4. Cost To Company
Keep the CTC in mind while hiring. For each position, fix the salary band. And pay the fixed salaries to every employee of that post that remains on it.
Considering General Expenditure as part of CTC, there will be no additional burden in the future.
And your expenses will also be in Limits. Otherwise, your startup may increase the cost which will not be correct, so you can fix the Employee's salary already. 
5. Unlearning Skill
For your startup, you should hire people who are ready to unlearn or that they are ready to learn new ways by forgetting what they have learned.
If your employees continue to work only on older methods, then not learn things, then your startup can fall back into the market.
Therefore, note the quality of unlearning during the hiring process.
Related: 12 Importance of Decision Making (You Should Know).
6. Branding Concept
When hiring for the first time for your startup, do not choose those people who have worked with a brand or have only worked with big companies.
While working for the startup, such people are needed, who have the courage to face the failure, and who have the ability to do great work with limited resources.
Give priority to those people who do not have the greed to work with big names for their startup.
Take along with people who want to do great work and not run behind the big brand. Hire you for an employer who can help you in a difficult time.
Bonus: 25 Major Benefits or Advantages of Branding (Explained).
7. Also, be Know applicants Interest
Many times people just work in compulsion. However, for a startup, it is important to see if the applicant is interested in job profiles and company goals.
If Employees are not interested in work, then they will not do the work productively, nor will they make significant contributions to the company. It is, therefore, necessary that you must ask an applicant about his interest, passion, etc. before giving him a job in his company.
Only hire those people who are excited about their work, so that your company can take it forward.
8. Proper Job Planning
Before enterprise hiring, you should know about the work that is done for each employee. What work should be done after firing and what will be his salary.
Every work should be distributed in different parts so that your employer knows that he has to do this work and do such work.
Otherwise, he will become confused about how to do that work.
So, keep track of your schedule and after ensuring the full information about your work, then you do the hiring.
Related: 14 Principles of Planning – Explained with Examples.
9. Open Discussion
When you have to be hiring for your startup, then you should have an Open Discussion with your employee.
There should be a connection between your employees and you that you need something or something between each other.
Both need to be negligent of each other. You should tell your employees about the details of your company. Do not hide anything from him or else after joining him, if he gets some information then he will quit the job.
Therefore, there should be an open discussion between you, even after you hire your employee
10. Workplace Display
Before you start hiring an employee for your startup, it is important to make your work environment work-friendly.
You should apply related posters to each Employee or their job, to make notifications.
So that they get the directions on working time.
So that they could work well. Your workplace display should make the work-friendly So that each employee can work with the mind.
Related: 11 Biggest Reasons Why Startups Fail (How to Prevent It).
11. Make Your Reward Program
You should make an award program for your startup company.
Encourage your employees to work and be eager to move forward. Every employee will do his work best with the reward program.
You should also give bonuses to employees and also give the reward product. So that he treats your company as a family and works for it.
12. Better Working Condition
Before hiring employees for any company, it is important that you have a working condition for those employees.
Will they be able to work at your company? Will he get facilities to the employees? Will those employees be encouraged to work in your company?
To answer all these questions, it is necessary that your company should have a good working condition so that employees are able to focus on work.
13. Interview Papers
When you hire employees for your company, you should prepare an interview paper that contains all the things that your company needs from an employee.
You should also include things that your employer is ready to work in the opposite condition and work with every company in every situation and help the company move forward.
Therefore, you should prepare your interview questions well so that you can know your candidate well.
Thus, now you know the factors to consider when hiring employees.
Read More