Communication will be Powerful and Effective only when Employees understand, Accept and act upon the information that has been transmitted to them. The sender to message must know the various barriers that can be impaired not only the transmission of information but also affecting understanding and acceptance of it.Common Barriers to Powerful & Effective Communication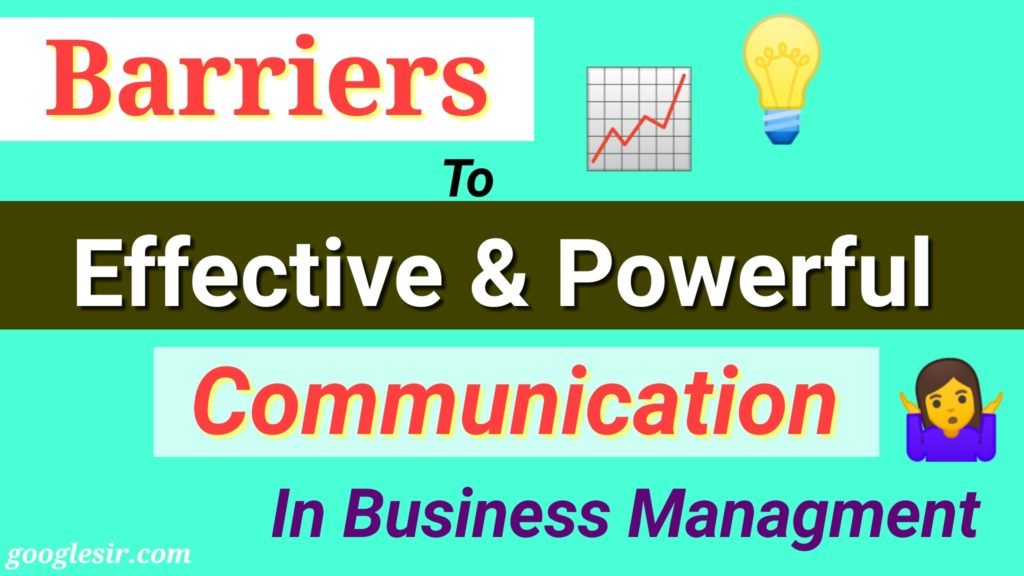 Common Barriers to Powerful & Effective Communication
Communication barriers cause the breakdown of the communication process leading to many managerial problems.
The modern communication theory presents different models of communication barriers.
According to MC Farland the important barriers to Managing Communication are: 
Unsound objectives.

The organization of blocks.

Semantic blocks and human relations barriers Best Buy status and position. 

Language and general installation to assist change.
Keith Davis has Classified the Communication barriers into Three Types-
Personal barriers.

Physical barriers and.

Semantic barriers.
A brief description of these types are as follows:
1. Personal Barriers
Personal barriers to communication interferences that arise from human emotions, values, and poor listening.
Personal barriers often involve a physiological distance between people that are similar to actual physical distance.
We see and hear what we are emotionally 'Turned' to see and hear, So communication cannot be separated from our personality.
Related: 8 Key Factors Affecting Span of Control (Explained with Examples).
2. Physical Barriers
Physical barriers to communication interferences that occur in the environment in which communication takes place.
A typical physical barrier can be a sudden detracting noise that temporarily drowns out a voice message.
People recognize when physical interference occurs and try to adjust to the interferences.
3. Semantic Barriers
Communication consists of the manipulation and interpretation of symbols.
Semantic barriers arise from limitations in the symbols with which we communicate. Symbols have a variety of meanings.
A major set of symbols for employed is language problem is that many words commonly used in communication carry quite different meanings for different people.
Two General kinds of Semantic problems present barriers to communication:
Some words and phrases are so common or abstract that they invite worrying interpretation.

When different groups develop their own technical language.
Related: 6 Main Categories in Classifications of Markets (Economics).
Communication Distortion in Organizations
4 types of barriers to communication can be found.
1. Attributes of Receiver
Different people may react in different ways to the same message for a number of personal reasons.
People brought in different cultures may react quite differently to the same political message that and elected officials pronouncement may take seriously by an individual who has brought up in an environment that places a class a great value on such pronouncement.
2. Selected Perception
Receiving a message is considered as a form of perceptual behavior.
People have a General tendency to listen to only part of a message and 'block-out' other information which they feel unimportant or for a variety of other reasons.
Related: 12 Importance of Planning in Business (Explained).
It is a tendency to ignore or avoid or reduce the new information that conflicts with the established perceptive positives that occur when the established beliefs.
Values and Expectations selective perceptive occurs when the receiver evaluates the context of the communication including the Role, Identified, Values, mode and motives of the sender.
3. Semantic Problems
This point has already been explained earlier. (Common Barriers to Powerful & Effective Communication).
Bonus: 16 Importance and Role of Leadership in Business (Explained).
4. Time pressure
Shortage of time also leads to distorted communication. For example, a doctor treated a patient is running an hour late to reach the place, may informally.
Instruct the nurse to administer the injection, instead of writing a formal order.
Several Techniques are commonly used by managers to Achieve approved Communication:
1. Follow-up and Feedback
Feedback makes communication a two-way process.
In a face-to-face situation, The sender becomes sensitive to facial expressions of the receiver that indicate how the message is being received.
In written communication, The sender may request a reply within a specified time or in a specified form.
2. Time
The management may standardize the timing to receive a specific message or may be established or allot a time away from the normal and job pressures, to exchange views with the Employees.
Thus, Now you know the Common Barriers to Powerful & Effective Communication.
Read More