'Electronic commerce' refers to all forms of business transactions which are carried out through electronic processing and transmission of data including text, sound, and visual images.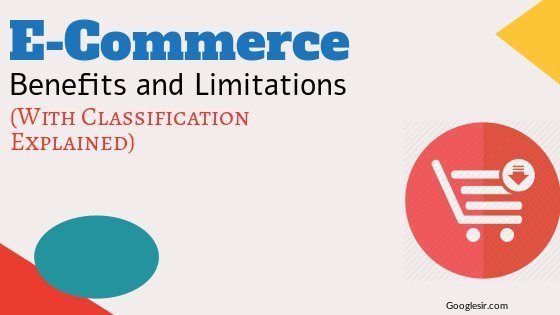 The term electronic commerce or e-commerce as it is popularly known; refers to a comprehensive system of trading that uses networks of computers for buying and selling of goods, information and services.
Using information and communication technology, e-commerce can take place between companies and their customers.
Thus, e-commerce includes buying and selling of –
Goods- e.g. digital products, Books, Consumer Electronics, Fine Art, Health & Personal Care, Home & Garden Tools, clothes, accessories

Information- e.g. subscription to some law site may give access to some court cases.

Services- e.g. matrimonial services, placement services, etc.
Benefits of E-Commerce Businesses
E-commerce businesses are gaining popularity because it offers the following benefits.
1. Global Market
E-Commerce businesses enable business firms to reach out to customers all over the world who have access to the internet.
Thus, the whole world becomes a potential market for business enterprises.
Related: 16 Ways of Employment Generation in The World (Explained).
2. Lower Transaction Cost and Higher Margin
E-Commerce business reduces the cost of business transactions substantially.
For instance, the number and cost of customer service representatives in a bank can be reduced by using net banking.
An e-commerce firm can earn higher margins as the transaction costs are reduced to a great extent. Top 10 E-commerce Websites in the world.
3. Quick Delivery
It increases customer satisfaction through quick delivery of goods and redressal of customer complaints if any.
The customer need not visit the business firm for making purchases or redressal of grievances.
Related: 15 Tips for Starting a Small Business (You Don't Know).
4. Saving of Time and Effort
There is a paperless exchange of information.
This saves a lot of time, money and energy in receiving orders and executing the same under the traditional mode of commerce. Thus, less clerical work is involved.
5. 24×7 Working
A website is open all 24 hours, 7 days in a week, it can, thus, take orders and keep an eye on delivery of goods and receive payments at any time.
A business firm can provide information about its products and services to customers around the clock.
6. Large Reaching Capacities
Large reach, effective target marketing, and the ability to offer location-based products and services.
Related: 15 Roles of Entrepreneur as Innovator (Explained).
7. Quick Supplies
The business firm can get quick supplies from the vendors. It need not maintain huge inventories of material.
Thus, less capital is blocked in the inventories.
8. Wider Choice
For consumers, the whole world becomes a shop.
They can look at and evaluate the same product at different websites before making a purchase decision.
9. Customer Convenience
Customers can shop from home or office. They don't need to stand in long queues to talk to a salesman.
They can read details regarding model numbers, prices, features, etc. of the product from the website and purchase at their own convenience. Payments can also be made online.
Related: 22 Types of Planning – Explained (Business Management).
10. Direct Contact between Business and Consumer
E-Commerce enables business firms to establish direct contact with their customers by eliminating middlemen.
It allows a quick response to the queries of customers and other business houses through the internet.
11. Launching of New Products
It is easier to launch a new product via the internet.
Complete information about the product can be provided over the internet.
E-Mail about the launch of the new product can be sent to the dealers and the customers. So, it can be used as a tool for sales promotion.
Limitations of E-Commerce Businesses
Following are the disadvantages or Limitations of E-Commerce Businesses.
1. High Start-Up Costs
The various components of costs involved with e-Commerce are :
Connection costs to the Internet (i.e. direct link).

Hardware/Software: This includes costs of sophisticated computer, modem, routers, etc.

Set Up: This includes employee work hours involved in designing and installing a suitable website.

Maintenance: This includes costs involved in the training of employees and maintenance of Web-pages.
How do I start an e-commerce business with less money?
2. Lack of Tech Knowledge
Lack of infrastructure, competing standards, and human fear to learn new things are other constraints in the use of e-commerce.
In many countries, peoples don't know how to shop online or use of e-commerce.
Related: 26 Challenges in Way of Social Responsibilities of Entrepreneurs.
3. High Risk
Many stories unfolded in 1999 about successful executives in established firms leaving for an Internet start-up, only to find out that their 'get rich' dream with dot.com was just a dream.
However, many dot.com organizations failed in 2000 and later due to various reasons like lack of good revenue model, problem-related to customer satisfaction, etc.
4. Training and Maintenance
Organizations require trained staff to initiate, update and maintain the Internet facilities and Web pages.
Some of the issues involved with training and maintenance can be handled by outsourcing certain functions and services.
This would alleviate the need for the organizations to have adequate Internet server configuration backup and 24-hour support environment.
Related: Mixed Economy: Definition, Features, Pros, Cons & Examples.
5. Fulfillment Problems
Tales of shipping delays, merchandise mix-ups, and Websites crashing under pressure are some of the common problems.
Customer confidence in e-Commerce ability to deliver during heavy shopping seasons continues to be a headache.
6. Lack of Personal Touch
The first important problem with e-commerce is the lack of warmth of interpersonal interactions between the seller and the buyer.
That is why e-commerce is not suitable where the customer requires personalized service as in case of customized dress or interior decoration.
Related: 25 Aspects and Coverage for Appraisal of Project Proposals.
7. Security
Security continues to be a problem for online business.
Many people are reluctant to give out their credit card numbers via the Internet.
For millions of potential cyber- customers, the fear of credit card theft is a real one. Customers have to feel confident about the integrity of the process before they commit to the purchase.
8. System and Data Integrity
Data protection and integrity of the system that handles the data are serious concerns.
Computer viruses are rampant, with new viruses discovered every day. Viruses cause unnecessary delays, file backups, storage problems, and the like.
The danger of hackers accessing files and corrupting accounts adds more stress to the already complex operations.
Also, Read 6 Methods and Techniques of External Environmental Analysis.
9. Corporate Vulnerability
The availability of product details, catalogs, and other information about a business through its Websites makes it vulnerable to access by the competitors.
The idea of extracting business intelligence from the competitors' Web pages is called Web Farming.
10. People's Resistance
Imagine a Website called furniture.com or living.com, where venture capitalists are investing millions in selling home furnishings online.
In the case of the sofa, one would want to sit on it, feel the texture of the fabric, etc.
Besides the 'testing and feeling' factor, online furniture stores face costly returns and the kinds of deliveries that cannot be expedited.
6 Main Categories in Classifications of Markets (Economics).
Classification of E-Commerce
Based on the entities involved in the transaction, electronic commerce has been classified into the following categories:
Business-to-Business (B2B)

Business-to-Consumer (B2C)

Consumer-to-Business (C2B)

Consumer-to-Consumer (C2C)
Thus, now you know the Benefits and Limitations of E-Commerce Businesses.
Read More