Benchmarking is defined as "measuring our performance against that of best in class companies, determining how the best in class active those perform care levels and using the information as a basis for our own company's targets strategies and implementation.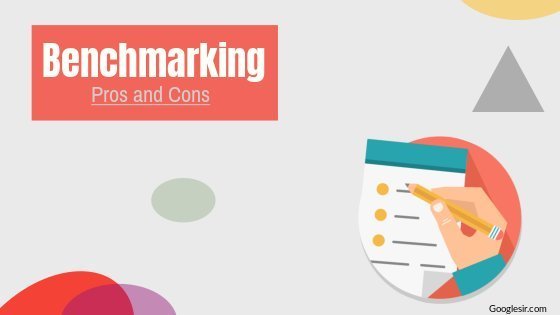 What is Benchmarking
A benchmarking is a point of reference against which things are measured.
In business, these points of reference or standards can take many forms. They are measured by cantons about the product or service.
By Studying other organizations and comparing the answers to these questions, we will be able to measure our performance against that of others.
As a result, we will be able to set new goals and adapt the best practices to our organization. This, in turn, will help us to satisfy our customers with the best quality, cost, product, and service.
Advantages of Benchmarking
The following are the important benefits of benchmarking in a company:
1. Creating a Profile of Company
A primary advantage of benchmarking practice is that it promotes a thorough understanding of the companies own process like the company's current profile (strengths and weaknesses) is well understood.
2. Saving Time and Money
The benchmarking process involves limitation and adaptation of the practice of superior competitors, rather than invention, thereby saving time and money for the company practicing benchmarking.
Related: 5 Competitive Priorities in Operations Management.
3. Intensive Studies of Practices
Intensive studies of existing practices often lead to the identification of non-value-added activities and plan for process improvement.
4. Enables Comparisons
Benchmarking enables comparison of performance measures in different dimensions, each with best practices for that particular measure.
It involves completion with several companies that are best for the chosen measure.
(Some common performance measures return on assets, cycle time, percentage of on-time delivery, the proportion of defects, percentage of damaged goods, and time spent on administrative functions).
5. Focusses on Performance Measures and Processes
Benchmarking focusses on performance measures and processes and not on products.
Thus, it is not restricted to the industry to which the company belongs.
It extends beyond these boundaries and identifies organizations in other industries that are superior with respect to chosen measures.
6. Allows New Targets to Set
Benchmarking allows organizations to set realistic, rigorous new performance targets and this process helps convince people of the credibility of these targets.
Thes tend to overcome the "not invented here" syndrome and the "we were different" justification for the status zero.
Benchmarking indicates to a company that there may be people elsewhere who do things better than they do.
7. Implementation of Improvements
Benchmarking allows organizations to define specific gaps in performance and to select the processes to improve.
It enables the company to redesign its products and services to achieve outcomes that meet or exceed customer expectations.
Different Types of Advertising in Marketing (With Examples).
8. The Basis for Training Human Resources
Benchmarking provides a basis for training human resources. Employees begin to see the gap between what they are doing and what the best in class are doing.
Closing the gap between what they are doing and what the best in class are doing.
Closing the gap emphasizes the need for personnel to be involved in techniques of problem-solving and process improvement.
The synergy between organizational activities is improved through cross-functional cooperation.
Disadvantages of Benchmarking
The following are some limitations of benchmarking:
1. Adopting New Technology Create Leap Performance
The primary limitation or weakness of benchmarking is the fact that best in class performance is not a static but a moving target.
New technology can create quantum leap performance improvement for example – the use of electronic data interchange (EDI).
2. It's not an All in One Solution
Benchmarking is not a panacea that can replace all other quality efforts or management processes that can improve the competitive advantages of a company.
3. Need Proper Balance
Benchmarking is not instant pudding. It will not improve performance if the proper unfractured of the total quality programs not in place.
Unless a corporate culture of quality and the basic component of TQM such as information system, process control, and human resource programs are in place, trying to initiate the best in class may very well disrupt operations.
Recommended for You: