With respect to developing countries, globalization policy has both positive and negative aspects. Globalization leads to contraction or shortening of the world market.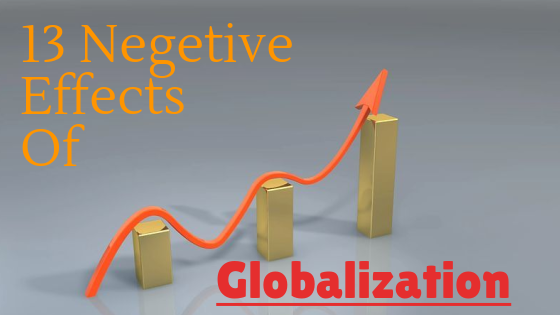 Negative Effects of Globalization
The negative effects of globalization can be studied as follows:
1. Cut-throat Competition
Globalization gives birth to the cut-throat competition which results in the early closure of many Institutions.
This proves the negative effects of globalization on the business environment.
2. Removal of Protection
In every country, some of the industries are assisted by the government but due to this policy, all the assistance is provided by the government is removed.
negative effects of globalization, the new and underdeveloped countries have to face problems.
Related: 28 Positive Effects of Globalization (With Examples).
3. Hindrance in Establishment of Small and Cottage Industries
Globalization hinders the development of small and cottage industries that have to be coordinated with large Industries.
These have to be coordinated with large industries.
This will limit the personal independence of small and Cottage entrepreneurs.
4. Limited Field of Domestic Institution
Globalization has Limited the work of domestic Institutions.
This restricts their importance in the international field.
Related: 18 Nature and Characteristics of Entrepreneurship.
5. Expensive Imports
If a few countries exports Limited than imports become expensive.
6. Takeover of Business
Globalization has increased the tendency of the takeover of small Institutions by large Institutions or they have to merge in large Institutions for holding themselves. 
7. Arousal of Monopoly
Globalization has given birth to large Institutions which results in spontaneous arousal of monopoly.
Related: Top 10 Characteristics of Good and Ideal Project Planning.
8. Ownership of Institutions
Globalization increases direct foreign investment in the country.
This results in the ownership of foreign Institutions over local resources.
This slowly gives rise to the establishment monopoly of foreign institutions in the country.
9. Expensive Domestic Goods
Globalization presents an open market for the domestic goods produced in a country.
As a result of domestic goods like vegetables, fruits, cereals, etc. are available for the whole world.
This will make these goods expensive in the country.
Related: 22 Advantages and Disadvantages of Privatization (Economics).
10. Effect of Priorities of Plans
There will be a deviation from plan priorities without considering the problems of the general public.
This can also affect the balanced economic development of the country.
11. Unemployment
The mechanization of industries increases the chances of unemployment.
But to cope up with this, special stress has two chances of unemployment but to cope up with this special stress to be laid down on rural development and development in the field of services.
12. Increase in Inequalities
On one hand, globalization stresses on single economy and market but on the other hand, It may increase inequalities and regionalism.
Thus, there are wider chances of increasing inequalities and differences among different nations.
13. Effect on National Sovereignty
Application of globalization makes All the Nations are business market. This can adversely affect national sovereignty.
Thus, globalization has both positive and negative aspects.
The country with efficient economic management will less negative aspects and more of a positive aspect.
Thus, now you know the negative effects of globalization.
Read More