Customer satisfaction is a person's feelings of pleasure or disappointment resulting from comparing a product's perceived performance (or outcome) in relation to his or her expectations. Therefore, it is a comparison of perceived performance and Expectations about a product or service by the customers.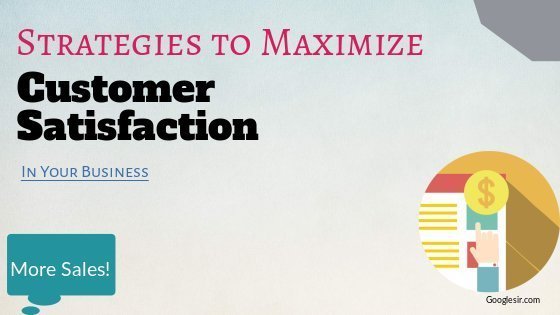 If the performance Falls short of Expectations, the customer is dissatisfied. In case performance is at par with Expectations customer is satisfied.
Its performance exceeds Expectations, the customer is delighted or highly satisfied.
The Prime challenge of economic liberalization to marketers is to satisfy their customers and it is in their own interest to realize the need of the Hour if they want to survive and grow.
The basic question is what are those strategies which can provide maximum customer satisfaction.
Primary Strategies for Enhancing Customer Satisfaction
In this regard by adopting the following strategies, the marketing companies can delight the customers in an effective manner:
1. Determination of Correct Target Groups
The first step in this direction is to identify correct target groups by the company to whom it wants to deliver products or services.
Market segmentation strategy can provide a valuable role in identifying the correct target group.
In this exercise, the company should compare its product features, price, and channels, and promotions with different customer groups.
2. Identification of Real Needs
After identifying the correct target groups, companies identify the real needs of the target customer, like, what exactly they want to from the company's product.
The following Four Points can provide useful help in this regard:
1. Market Research
Marketing companies on their own or by hiring the right marketing research company may procure required information from target market customers about their likings from the products or services.
2. In House Data Bank
Database marketing can narrow the widening gap between the company and customers.
For this purpose, the company keeps cards to collect the required information.
Many companies like Johnson and Johnson, General Motors, Blockbuster Entertainment Corporation, etc. are maintaining cards of millions of customers to collect the required information from the customer to keep update themselves and to redesign the marketing strategies.
3. Anticipation
It may provide useful thought for product improvement.
Marketing executives should ask questions from themselves that what else we delight customers. If it is workable, it should be implemented.
4. Empathy
Empathy plays a vital role in comparison to anticipation.
It provides an opportunity for Marketing executives to see those things from the customer's angle.
In empathy, executives put themselves in the place of the customer and ask questions if I would have been a customer of the said product what would be my feelings and reactions about the product or service.
If the answer is negative then the company should work hard to improve its product or service.
3. Expectations Building
At the time of positioning of the company's product, executives should make judicious decisions with regard to expectations building.
It is always advisable that reasonable expectation should be built about the product.
The product should deliver more in comparison to expectations in order to delight the customer.
4. Differential Advantage Strategy
When dozens of brands are available in every category, then it becomes very difficult for the marketing company to promote its product separately from rivals.
Marketing companies should try hard to create something special in their product which is not prevailing in Rival's product.
By creating differential features in this product or service company can effectively persuade customers to buy their brand only.
A marketing company may create distinctive core competence for this purpose.
Core competence has the following three characteristics:
It should be a source of a competitive advantage that should significantly contribute to perceived customer benefits.

It should be having the potential breadth of application to a wide variety of markets.

It should be difficult for competitors to imitate it.
5. Tracking Customer Satisfaction
The marketing company should develop an effective system for the periodical measurement of customer satisfaction.
A marketing company can bring required changes in product or service well in time before it is discarded by customers.
In this sense tracking, customer satisfaction may prove Insurance of product or service.
Following techniques may be used for the purpose of customer tracking:
Complaints and Suggestion System
Leading International companies provide toll-free telephone numbers.
In this system customer's complaints and suggestions are recorded and it is recorded from time to time.
Information received in this system is sent to concerned departments for further necessary actions. Whirlpool, General electrical, etc. Have Established hotlines and toll-free telephone numbers for this purpose.
Company may get good ideas from it enable them to act quickly to address customers complaints and suggestions effectively.
Lost Customer Analysis
It is the practice in IBM that if the company losses any customer among 'top 100 customers' of a specific region then, it is the duty of the concerned marketing executive to prepare a detailed report mentioning reasons to lose him, along with an exit interview of the customer.
This practice keeps enormous pressure on concerned marketing executives to keep their customers happy and satisfied.
Ghost Shopping
Marketing companies can hire persons for this purpose.
Hired persons visit the market and pose themselves as potential buyers at the selling point to report on strong and weak points experienced in buying the companies and competitor's products.
Customer Surveys
By customer, surveys the company can obtain, valuable information about customers liking dislikings, complaints, and useful suggestions.
Customer surveys may be carried out personally by Telephone, by sending a questionnaire, and by email.
Related: What are the responsibilities of business towards customers?
6. Customer Relationship Marketing (CRM)
Leading marketing companies are working hard to design suitable customer relationship marketing strategies.
Customer relationship develops more loyal customers and increases revenue.
In customer relationship marketing Emphasis is given on the retention of customers and the longevity of the relationship.
The following methods can be used for customer relationship marketing:
Reactive Marketing
In this method, the salesperson sells the product and encourages the customer to call if he has any complaints, comments, and questions.
Proactive Marketing
In proactive marketing, the salesperson keeps regular contact with the customer to know his reactions and suggestions.
Accountable Marketing
It is the most useful method to build a customer relationship.
Partnership Method
In this method, the company works continuously with the customer to find out ways and means to get high customer satisfaction.
7. Brand Building
Customers do not buy products, they buy brands.
In marketing, branding is used for the purpose of identification and differentiation of products and services.
Brand building is a long and systematic process.
The prime purpose of brand building is to create brand loyalty. It provides longevity of customers. When the brand is well set in the mind of the customer, then he forgets the price comparison.
Marketing companies should develop effective brand building exercises because a good brand provides psychological satisfaction to the customer and cater to their esteem needs.
A multimedia campaign is required in brand building to convert satisfied customers into lifetime customers.
8. Flexible Marketing
To delight customers now companies adopting the policy of flexible marketing.
Under flexible marketing, the customer is provided reasonable freedom to design his product or service according to his own requirements.
Ford Motors and General Motors are providing online services to their customers.
Under this facility, the customer can plan the car according to his or her own requirements.
Inflexible marketing the price of a product or service may be lesser or more in comparison to a standard product or service, keeping in view the customers' deletion or addition.
Related: How does marketing contribute to customer orientation?
9. Value Additions
The key to customer satisfaction is a continuous value addition by the marketing company.
Associated Cement Company has introduced Ready Mix Concrete for builders.
It was highly appreciated by contractors and builders in Bombay company went one step further by providing mobile mixture vans.
The task of the mobile mixture van is to collect the Ready Mix Concrete from the site and mix it in the transit and deliver it to the desired locations at the prescribed time.
By adopting the above-mentioned strategies the marketing companies can provide maximum customer satisfaction or delight the customers and can face the competitions very effectively.
Benefits of Providing Maximum Customer Satisfaction
Marketing companies to take into consideration the following aspects to understand the vital significance of providing maximum customer satisfaction:
Due to stiff competition, the customers have enormous choices. Therefore, they will prefer a specific brand when they are maximumly satisfied.
Due to globalization marketing companies are bound to face not only domestic competition, but foreign competition is much greater. Therefore, markets cannot think to increase market share. The real challenge is the retention of customers. Retention of customers is closely related to their satisfaction.

Researchers indicate that about 95% of dissatisfied customers do not complain, they shift the other brand.

Researchers also indicate that satisfied customers only tell about their satisfaction 5-7 persons. Whereas dissatisfied customers tell to 17-19 persons.

It is also very important from the point of view of customer lifetime value (CLV), which can be explained in simple terms as the total sum of expected buying by a customer in his life from marketers.

Half of all shoppers have to say not to visit a particular store because of bad experiences.

Older people are less dissatisfied than younger people. It may be because they are less patient or having higher Expectations.

One study reveals that ill-prepared and unwelcoming salespeople lead to more lost business and bad word of mouth than any other management challenges in retailing.

Customer satisfaction is the qualitative variable of marketing operations because it is very difficult to measure accurately.
Customer satisfaction has been on the lower agenda of marketers due to the enormous protection provided to them by the government.
Now in this changed situation, they cannot afford the luxury to ignore customer satisfaction.
Reccomended for You: