Job evaluation is of fundamental importance in reward management. It provides the basis for achieving equitable pay. Job evaluation is an orderly process of determining the worth and wages for the job in relation to other jobs.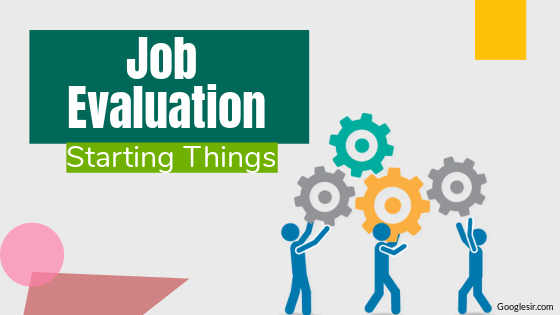 Each job should be paid or priced according to its real worth.
Serious Points for Start Job Evaluation Process
Following are the key points you should know before starting a job evaluation program:
Jobs must be thoroughly examined and job descriptions and job specifications must be prepared.

Job and persons to be coved must be decided in advance.

One job should be compared with others and put on a list in order of its worth.

The job evaluation plans should be communicated to the employees.

All employees who will be affected must be given participation in the job evaluation plan.

The job selected should be divided into certain factors such as skill, effort, working conditions, etc. And each factor should be evaluated separately.

Supervisors should be trained in job evaluation methods.

Pay structures for different functions such as production, sales, marketing and finance, etc should be kept different.

The management should accept the challenges of the union with an open mind.

Any deficiencies or inconsistencies in wage structure should be removed after comparing internal conditions with the external environment.

If job contents change, these should be informed to job analysis so that necessary changes can be made in the rating.

Job definitions, measuring scales, forms, questionnaires, and preliminary descriptions must be prepared beforehand.
Also, the main thing is the job evaluation plan must be acceptable to employers and there should be a limited number of occupational wages.
Recommended for You: