A market structure where a large number of buyers and sellers selling homogeneous product and the price is determined by the industry. All the times sell the product at one price.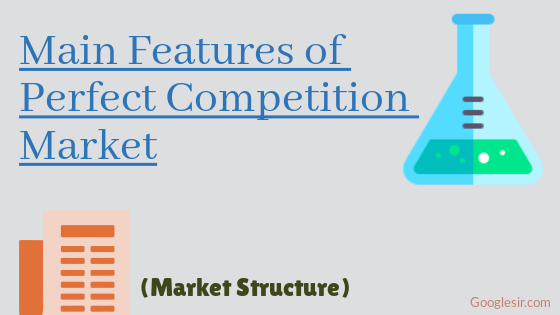 Features of Perfect Competition Market
Following are the important features of perfect competition market structure:
1. Large Number of Buyers and Sellers
There is a large number of buyers and sellers of a commodity under this market structure.
No individual seller or buyer is in a position to influence the market price as they sell or purchase a small portion of the total stock available in the market.
Hence, sellers and buyers accept the price prevailing in the market and take decisions accordingly.
Related: 5 Types of Market Structures in Economy (With Examples).
2. Homogeneous Product
The product sold by various firms in this market is identical. An identical product means that each unit of the product is the perfect substitute.
There is no non-price competition (advertisement and sales promotion) in this market for boosting the sells.
3. Free Entry and Exit of Firms in Industry
In this market, each individual firm is free to enter and exit the industry whenever they are interested.
Thus, there are no restrictions on the entry and exit of firms in the industry.
4. Perfect Mobility of Factors of Production
All the factors of production have perfect mobility.
Whenever there is a change in their remuneration they can move from low paid remuneration to highly paid remuneration in other industries under this type of market.
5. Perfect Knowledge of Market Conditions
Under this type of market buyers and sellers have perfect knowledge regarding the price of the product.
Its availability and who is selling the product and who is buying the product.
Perfect knowledge leads to the existence of a single price in the market.
Related: Top 6 Main Features of Monopoly Market Structure.
6. No Transport Cost
Under this market, there is no transport cost because the market is adjusting to the area.
Thus, A commodity is easily carried away from one part of the market to another that there is no need for transport cost.
7. Absence of Artificial Restrictions
Under this type of market, there is the non-existence of any artificial restrictions on the demand and supply of the product, prices of inputs and products and price determination.
Thus, now you know the features of perfect competition market structure.
Read More