These create the development of entrepreneurship or dynamism or flow of the entrepreneurs. Although, this theory and assumption are faulty, yet it has been observed that in several countries, and entrepreneurial development could not take place, in spite of providing all types of facilities and assistance.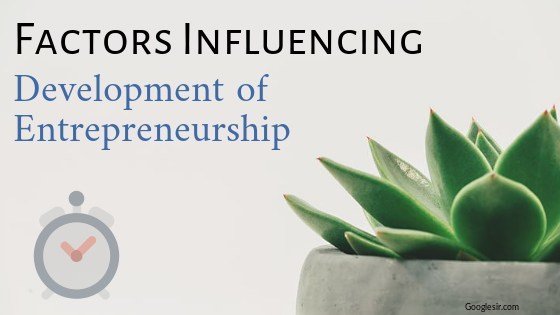 Today, entrepreneurship development has become the necessity for All the Nations.
The government in every country is paying attention to the development of the entrepreneurs, by organizing various schemes and programmes, providing incentives and facilities and establishing various Institutions and organizations for entrepreneurial development.
But many factors influencing entrepreneurship development.
In fact, entrepreneurship development depends upon the good number of factors.
The entrepreneurship development depends upon various factors and determinants.
Factors Influencing Entrepreneurship Development
To facilitate the study, the major factors influencing entrepreneurship development as follows:
1. Motivational Factors
Motivation plays an important role in entrepreneurship development.
It is an important internal desire and force, which inspires him to take up entrepreneurial works and encourages him to achieve in his goals.
Entrepreneurial motivation helps in entrepreneurship development. The achievement motivation, power motivation, and expansion motivation are important factors.
The achievement motivation Lays emphasis on the extent of desire of an individual for obtaining achievements, bringing out new and demonstrating excellent work efficiency.
If he has the interest, temperament, and commitment, he will be inspired to establish enterprise, otherwise not.
Related: 12 Theories of Entrepreneurship (Explained with Examples).
Similarly, Under the power motivation, the entrepreneurs have the desire to influence other persons and keep control of them.
It will motivate them to go ahead.
Thus, the desire of the individual determines the level and development of entrepreneurship.
Persons who have individual effectivity or the ability and quality to influence the situations, then they may easily be motivated towards Entrepreneurship.

An Entrepreneur has to accomplish various functions, like the establishment, management, and operations of the industry. He has to remain alert against various challenges and external forces and has also to bear various pressures and stresses.
In such a situation, the individuals who have the capacity to struggle, have the potential to become an entrepreneur.
2. Entrepreneurial Skills
An entrepreneur requires various types of skills, like human, business, managerial and Technical for success.
The entrepreneurial development may be easily encouraged by developing these skills in the entrepreneurs.
Following three types of skills are necessary for an entrepreneur:
An Entrepreneur should have projects skills for establishing industry, he has to collect various facts and information, formulate projects, consider various stages of projects and to make investment decisions.

The entrepreneur should have the managerial ability for successful management and operation of the industry. He has to manage work planning, organize various activities, take effective decisions, communicate skillfully, provide directions, exercise effective control etc.

An entrepreneur must have the ability of Creative Thinking and ability to Grab opportunities, in order to establish his distinct identity in the industry.
Related: 37 Essential Qualities of Successful Entrepreneur (Must Know).
3. Entrepreneurial Knowledge
Entrepreneurial knowledge is also an important factor in determining entrepreneurial development.
Such knowledge helps them in framing strategy relating the industry by making use of their skills.
The entrepreneurs require knowledge of the following three areas:
He should have knowledge of physical, social, cultural, political, legal, technological and ethical factors of the environment.
He should have knowledge about various issues, relating to the alternatives industries: the best alternative amongst various alternatives; raw material to be used- foreign or domestic, production process, distribution of products, competitive firms, etc.

After selection of the best industry, the entrepreneur should have detailed knowledge of various Technological aspects, like suitable production technique, their costs, and likely profits, of the industry to facilitate the development of entrepreneurship.
4. Normative Behaviour
Normative behavior has three aspects namely bearing of risks, family expectations and pressures, self-dependence and work culture, etc.
Which influence entrepreneurship development
The person's tendency to bear risks and uncertainties implies that they are not afraid of challenges and responsibilities. They work hard and these facilities prefer entrepreneurial development.
Family expectations or motivations also have an important role in entrepreneurship development. If the head of the family and other members desire to earn a good amount of wealth by doing Independent work and engaging all family members then it gains social reputation, so establishment of own enterprise increases.
The Desire of a person to lead Independent and self-dependent life is also helpful in making a man entrepreneur and it facilitates overall entrepreneurship development. Such persons believe in self-employment. Hence, persons having such a desire to become successful in the establishment of an enterprise in project works, even without suggestions, directions, and guidelines, from others.
Work culture is the base for entrepreneurship development. In the societies, where people believe in 'work is worship', intense desire to work, and has interest and love for work, the development of the entrepreneur is fast and substantial. On the contrary, the persons who believe in luck, and have no Desire and concern for work and avoiding activeness, push the entrepreneurship backward. In such situations, entrepreneurship development is very difficult.
5. Socialization
In the society where commitment for achievement is taught formally or informally in schools, religious organizations, political parties, educational institutions.
The qualities to accept challenges the entrepreneurial development is substantially high and faster.
The following socialization factors are significant in entrepreneurship development:
1. Feelings for achievements and contractive achievements have an effect on entrepreneurship development in a highly positive manner.
If it is not so, it will adversely affect entrepreneurship. As a result, the establishment of the enterprise is difficult and problems develop even in respect of exiting Enterprises.
2. The base of entrepreneurship can be build by providing training through socialization. This training may be provided in two ways social training of self-dependence and training of initiations to youth, etc.
As a result, the self-dependence of people will increase and they will start the establishment, development, and expansion of the enterprise. But, it should be kept in mind that neither excessive security be provided to them, nor excessive directions are provided.
Otherwise, they will never take interest in working independently.
They will often wait for someone who may be provided reasonable guidance and security.
Related: 22 Advantages and Disadvantages of Privatization (Economics).
6. Economic and Business Environment
Economic and business environment, economic stability, competition, trade cycles, prices, income levels, investments and savings position of the market, market competition, and Monopoly market, imperfect competition, capital market transportation, and communication awareness towards the environment, quality of entrepreneurs and innovations, etc.
Significantly influence entrepreneurial development.
Besides, various sections of the society, Like consumers, suppliers, workers, employees, investors and debenture holders etc. also have an important role in entrepreneurship development.
7. Government Policies and Incentives
Various economic and business policies of the government, like industrial policy, Licensing policy, agriculture policy, monetary and fiscal policy, Labour policy, Export-Import policy, etc. also influence entrepreneurship development.
If the economic policies of the government are suitable, progressive and sound, these may encourage entrepreneurship development.
The government may attract entrepreneurs by making them aware about its positive approach towards enterprises/Industries through these policies and by providing them the incentives and facilities etc.
The government may also attract the entrepreneurs towards backward villages and areas also by announcing and providing special concessions facilities and assistance, in addition to general incentives.
These incentives help in increasing production, income, savings, investments and capital formation and ultimate development of the country.
Related: Social Responsibility of Entrepreneurs towards Government & Institutions.
8. Economic Laws
Economic laws and rules also affect entrepreneurship development.
Such laws and rules include Monopolies restrictive and trade practices Act, Labour laws, business laws, industrial laws, acts relating to various taxes, like Income Tax, sales tax, wealth tax, and various other laws and rules.
The government provides impetus to economic activities by framing practical and useful laws and rules.
These also provide the safeguard to the entrepreneurs for their business, wealth and property.
Besides, law and order also be managed by the government to sustain Industrial Development.
The government may also make the rules and laws more effective for the establishment of industries.
Thus, a conducive legal environment may be built for entrepreneurial development.
9. Scientific and Technological Development
Technology, technological activities, and Technical research available in the country results in scientific and technical development, which also influence the entrepreneurship.
Various new scientific inventions and technical development contribute to agricultural and industrial development.
Through various new production methods, mount up production in the country, cost of production costs of production reduces, production of new products become possible and search of new raw materials and new markets is easily facilitated.
All this ultimately affect the development of entrepreneurs.
If the government pay adequate attention to the technical development of the country, the development of entrepreneurs is quite fast and substantial.
Related: 10 Objectives of Entrepreneurial Development Programmes – Explained.
10. Political and Administrative System
The Political and Administrative System of the country also influences the entrepreneurial development.
Various factors and conditions, Like approach of the government (communist, socialist, dictatorial) policies concerning public welfare and Social Justice, donations, gifts received by political parties and public leaders from business Institutions, political stability, defence policy for national security, foreign policy, bureaucracy, government policies and rules, National Prestige, etc.
Constitute political and administrative systems.
For example, the liberal policies and practical rules for setting up of industries will encourage Development of the entrepreneurs.
If the policies and rules are complex and cumbersome, no entrepreneur will come forward to establish the industries.
In addition, if the Bureaucracy is corrupt, entrepreneurial development will not be possible.
11. Attitude of Big Entrepreneurs
The attitude has a direct or indirect role in entrepreneur development.
The positive attitude of the existing big entrepreneurs encourages and negative attitude discourages the small entrepreneurs.
If the Big Entrepreneur uses various types of facilities, like raw materials, semi-finished products, Machinery, Tools, Finance, Management services, and advice, etc. Available to the small entrepreneurs, then they get encouraged.
Besides, they may also solve various problems of the small entrepreneurs.
Such type of attitude encourages the development of entrepreneurship, otherwise, attitude discourages the small entrepreneurs.
12. Infrastructural Facilities
The government provides various infrastructural facilities for entrepreneurship development.
These include the supply of raw materials, communication, roads, water, electricity, constructions of Industrial Area, Supply of sources of energy, Insurance, godowns, and financial services, etc.
Related: 15 Functions of Leadership (Explained with Examples).
13. Mechanism of Identifying and Developing Entrepreneurs
In every society, potential entrepreneurs always exist.
The society which is capable of identifying the entrepreneurial potential of its young generation may develop their entrepreneurial feelings by engaging them in creative activities.
But, it is the duty of society and its members not to make partiality.
In India, identification and development of new entrepreneurs is now the responsibility of district industries centers.
14. Entrepreneurship Oriented Education System
The educational institutions are contributing for development of entrepreneurial tendencies of the entrepreneurs.
These include schools, colleges, universities, Technical Institutes, management institutes, and entrepreneurial development institutes, etc., which conduct various business and entrepreneurship oriented courses.
In these courses, detailed and useful knowledge is provided regarding the role of entrepreneurial functions, the establishment of business enterprises, their management and operation, preparation of project Reports and entrepreneurship, etc.
Thus, entrepreneurship may be developed by expansion and publicity of business and technical education in our country.
15. Role of Banks and Specific Financial Institutions
The good number of banks and specific institutions have been established with the objective of development of entrepreneurship.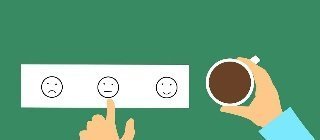 Entrepreneurial Development Institute, Entrepreneurship development boards, National Research and Development Corporation(NRDC), National Entrepreneurship and small business development institute, Nationalised and commercial banks and state financial corporation have played a significant role in entrepreneurship development.
These banks and Financial Institutions encourages Entrepreneurship by way of providing finances at concessional rates, Approving the projects of the entrepreneurs quickly and by providing loan facilities for Research and investigation etc.
Not only that, banks and specific Institutions provide refinance credit facility to sick units and also provide them with the required advice.
Related: 59+ Important Functions of an Entrepreneur (With Examples).
16. Training Facilities
Various organizations and Institutions conduct training programs for the development of entrepreneurial abilities and capacities among people.
Under these programmes, exchange of thoughts, ideas, and experiences take place and conferences, seminars and group discussions are held.
Thus, entrepreneurial training institutes have a distinct role in the development of entrepreneurship.
17. Supporting Institutions
The government has established various types of supporting institution, Agencies, and organizations for entrepreneurial development.
The functions of these institutions are to provide assistance to the entrepreneur in marketing, management, raw materials, machinery, training, exports, modernization, and other matters.
These institutions and Agencies also provide services of surveys, Technical Education, business counseling, machine designing, product development, research projects, development, and investigation, etc.
By such types of functions and services, entrepreneurship is developed.
18. Research and Literature
Research Institutions also have an important role in entrepreneurial development, like National Investigation and Development Corporation.
The main function of this Institute is to help the technological development.
It has the liaison with technology development Institutions and prepares a vast sock of Made in (Country Name) technology emanating from various research activities carried out by various Research and Development Institutes.
In addition, Research institutes carry out research problems and publish them, which is helpful in the development of entrepreneurs in the country.
By entrepreneurial literature and research, the entrepreneurs get guidance for setting up of the enterprises.
It attracts the young generation towards entrepreneurship.
19. Other Factors
In addition to the aforesaid factors influencing entrepreneurship development, various other factors also influencing it.
These are the development of entrepreneurial attitudes, Cooperation of various organizations and Institutions, the entrepreneurial culture of the society, the concept of materialism.
Thus, now you know the what key factors influencing entrepreneurship development.
Read More: