Good logistics management views each activity in the supply chain as contribute to the process of adding value. Logistics costs are driven or created by the activities that support the logistics process.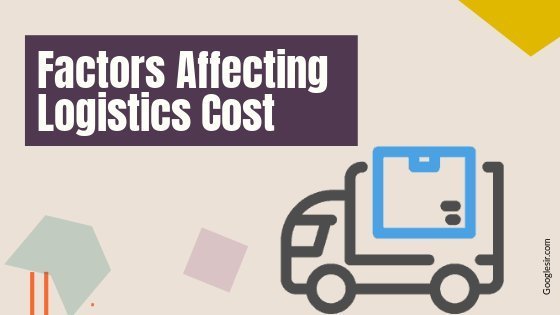 There are many types of elements that influencing the cot and importance of logistics.
What are the Factors Affecting the Cost of Logistics?
The following are the factors that disturbing logistics cost:
1. Deregulation (Reduction in Economic Regulation)
Relaxed government control of carriers? rates and fares, entry, and exit, mergers ad acquisitions.
Reductions in economic regulation in the US airfreight, railroad, and trucking industries allowed individual carriers flexibility in pricing and service.
This flexibility is important to logistics for several reasons:
It provides companies with the ability to implement the detailed logistics approach in the sense that companies could specify different service levels, and prices could be adjusted accordingly.

The increased flexibility in pricing allows large buyers of transportation services to reduce their transportation costs by leveraging large amounts of freight with a limited number of carriers.
2. Changes in Consumer Behaviour
Changes in consumer behavior have important logistical implications.
The concept market demassification suggests that, in contrast to mass markets, an ever-increasing number of market segments has distinct preferences.
One way to address market de massification is through mass customization, which refers to the ability of a company to deliver highly customized products and services that are designed to meet the needs and wants of individual segments or consumers. Mass customization demands that logistics systems must be flexible rather than rigid.
In terms of changing family roles, more and more women are in the employment roles of organizations all over the world. One consequence of this has been an increasing emphasis on the conveniences associated with a family shopping experience.
This convenience is manifested in various ways ton include extended store hours, home delivery of purchased items, and ready to eat, ready to cook foods. each of these has logistics-related implications.
As for rising customer expectations, it should come as no surprise that consumer expectations tend to increase through time, which means that a satisfactory level of performance in the past might not be considered as so today.
Today, the concept of a made to order, direct to customer personal computer has been made a reality by dell computer. Dell has considerably changed distribution channels and supply chains in the sense that make to order have much different production and inventory requirements than does make to stock.
Related: Top 9 Advantages of Logistics or Physical Distribution.
3. Technological Advances
From a logistical perspective, some of the important technological advances have involved computer hardware and software in the sense that management of logistics involves a tremendous amount of data.
Technological advances in computer hardware, software, and capacity have allowed logisticians to make faster, more informed, and more accurate decisions with respect to customer service, transportation, inventory management, and other logistical activities.
The internet has proved to be a powerful tool for improving logistical effectiveness and efficiency., The heaviest use of the internet involves purchasing or procurement and transportation.
4. The Growing Power of Retailers
The emergence of "power retailers" such as Wal Mart, home depot, and best buy have influenced logistics to a great extent.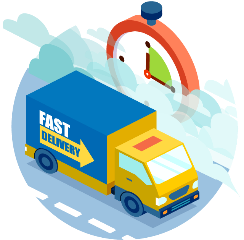 Power retails have large market shares and low prices. Often they are the largest customer their suppliers.
Many power retailers have recognized superior logistics is an essential component of their corporate strategies and has adopted state of the art logistics practice.
For example, Walmart has implemented the practice of collaboration planning, forecasting, and replenishment successfully.
Related: Tips for Reduction of Physical Distribution Costs.
5. Globalization of Trade
Although many factors such as rising standards of living and multicountry trade alliance have contributed to the growth of global trades, logistics has played a key role too.
International logistics is more challenging and costly than domestic logistics.
Top Positive Effects of Globalization (With Examples).
The geographical distance between buyers and sellers is often greater (which may translate into longer transit times) and monitoring logistics processes is sometimes complicated by differences in business practices, culture, and language.
As for costs, the greywater geographic distances tend to result in higher transportation costs and documentation requirements can be quite costly as well.
Recommended for You: