Hire purchase means hiring an asset for a period of time and at the end of the period, purchasing the same. Actually, this is time-sharing of the asset- the person hiring the asset acquires its possession and the right to use it.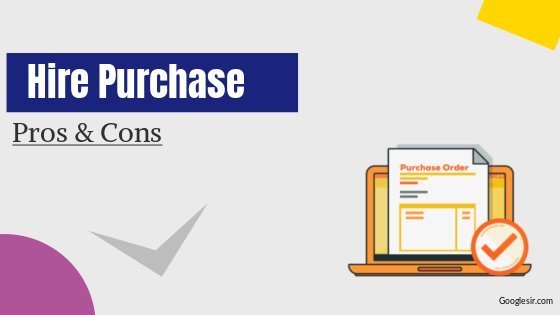 As aa legal device it is being used for financing capital goods such as industrial finance, financing of consumer goods, and selling consumer goods on hire purchase.
Advantages of Hire Purchase
These are the following advantages of hire purchase:
1. Spread the Cost of Finance
Whilst choosing to pay in cash is preferable, this might not be possible for consumers on a tight budget.
A hire purchase agreement allows a consumer to make monthly payments over a pre-specified period of time.
2. Interest-Free Credit
Some merchants offer customers the opportunity to pay for goods and services on interest-free credit.
This is particularly common when making a new car purchase or on white goods during an economic downturn.
Different Services Rendered by Merchant Bankers.
3. Higher Acceptance Rates
The rate of acceptance on hire purchase agreements is higher than other forms of unsecured borrowing because the lenders have collateral security.
4. Sales
A hire purchase agreement allows a consumer to purchase sale items when they are not in a position to pay in cash.
The discounts secured will save many families money.
5. Debt Solutions
Consumers that buy on credit can pursue a debt solution, such as a debt management plan if they experience money problems further down the line.
6. Higher Realized Income
Higher rate of interest can be charged and as the calculation is on the original advance, higher-income would be realized.
Main Advantages and Disadvantages of Lease Financing.
7. Low Net Performing Assets (NPAs)
As the company is the owner, attachment of the vehicle, and subsequent sale even by private auction would keep the NPAs as low.
8. Fewer Defaulters
As the borrowers would end up losing the installments paid as well as the vehicles, defaults would be lower.
9. Recycle Recovered Funds
The banks can effectively recycle the funds recovered.
Disadvantages of Hire Purchase
These are following disadvantages of hire purchase:
1. Encourages Lavish Expenditures
On account of the easy payment facility, consumers go in for articles, which may be beyond their means.
Thus, this encourages lavish expenditures.
2. Future Income is Mortgaged
As consumers have to pay installments over a period of time, their future income is mortgaged.
3. Higher Installments Price
The installment price is higher than the cash down price.
4. Difficulty in Re-sale of Goods
Even though the hire seller has the right to respond to the articles in case of default, selling them again is difficult as they second-hand goods.
5. Personal Debt
A hire purchase agreement is yet another form of personal debt.
It is a monthly payment commitment that needs to be paid each month.
6. Final Payment
A consumer does not have a legitimate title to the goods until the final monthly payment has been made.
7. Bad Credit
All hire purchase agreements will involve a credit check.
Consumers that have a bad credit rating will either be turned down or be asked to pay a high-interest rate.
Recommended for You: