Public Relations is the management function which evaluates public attitudes, identifies the policies and procedures of an individual or an organization with the public interest, and executes a program of action to earn public understanding and acceptance.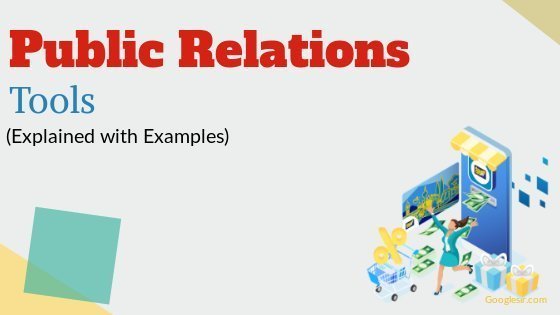 Public Relations is an organization broad, communication effort intended to influence various groups, attitudes towards that organization.
Tools of Public Relations
Various tools are available for public relations. Some of them are given below:
1. Press Release
The most widely used public relations tools consist of news releases. It covers news, which is important at the time of release.
Topics may include the announcement of a new product, the appointment of key personnel, obtaining a major contract, the establishment of scholarship funds, etc.
Related: What is the Process of Marketing Control? (Step by Step).
2. Press Kit
It is publicity material for the distribution to the media at press conferences or open houses.
Such a press kit includes a basic fact sheet or information about the event, a program or schedule of activities, news story about the event for the broadcast and print media along with the photos and brochures.
3. Photography
Photos of events/products in use or newly appointed chief executive may create interest in the new story.
In fact, the photo tells the story faster. The photo should be of good quality and needs little or no explanation.
The typed caption should describe the subject of the photos and accurately describe the people shown.
Related: How to Choose Right Sales Promotion Programs (Explained).
4. Feature Article
Many business and trade journals give feature articles about companies, and their achievements, products, and services.
Public Relations persons, the publication's staff, or the third party such as freelance writers may write such articles.
5. Printed Materials
Printed materials are used extensively in public relations and Advertising.
They may be brochures or templates about the company or its products.
Letters to customers, inserts or enclosures, that accompany monthly statements, the annual report to shareholders and other reports.
6. House Organs
It is a Publication about the help and policies of the company. An internal house organ is for employees only.
External House Publications go-to company connected people (customers, stockholders, suppliers, and dealers, or to the public).
They may take the form of a newsletter, or magazine. The purpose of the house magazine is to promote Goodwill, increase sale or Mould public opinion.
Related: 13 Main Types of Retailers in Marketing (With Examples).
A well-established house organ can do a great deal to motivate employees and appeal to customers.
However, writing, printing and distributing can be expensive and very time-consuming.
7. Posters, Exhibits and Bulletin Board
Posters are used internally to stress security, reduction of waste, good Housekeeping and courtesy.
Externally they can import product information or other news of interest to the customers.
Companies can use exhibits to describe the organization's history, present new products, show how products are made or explain future plans.
Exhibits are often prepared for local fairs, colleges, universities, and trade shows.
Internally, public relations staff often use Bulletin boards to announce new equipment, meetings, promotions, new products, construction plants, and Recreation news to employees.
Related: 31 Factors Affecting the Choice of Distribution Channels (Explained).
8. Audio-Visual Materials
Audiovisual material can take many forms including audio and video CDs and cassettes, slides, films, and film strips, etc.
They can be used for sales, training or public relations.
9. Speeches
Speeches are another important tool for building a favorable Company image.
The company executives usually give talks at trade association and product image or arrange sales meetings by carefully choosing expert people to give speeches and also by using speech writers to help improve the quality of speeches.
10. Sponsorships
Companies can promote their brand and corporate name by sponsoring sports and cultural events.
Related: 10 Major Factors Affecting Pricing of Product (Explained).
11. Public Service Activities
Companies can build Goodwill by contributing money and time to good causes such as hospitals, old age homes, educational institutions, etc.
12. Events
Companies can draw attention to new products or other company activities by arranging special events such as press conferences, seminars, trade shows contests and competition anniversaries, etc.
Thus, now you know the all-important Tools of Public Relations.